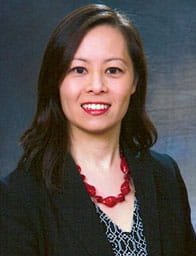 Debbie Wong, CPA, CA, CRPC™
Vice President, Tax Consulting, Private Client Group, Raymond James Ltd.
Debbie joined the investment services business after deciding to focus her time on helping people with their tax concerns through value-added services rather than through a fee-for-service model utilized in public practice.
As part of our team of private wealth professionals, Debbie works with our financial advisors to guide their high-net-worth clients toward practical solutions to their tax issues. She has expertise in Canadian and U.S. personal tax, specific issues affecting U.S. citizens or green card holders, and cross-border tax (immigration and emigration). Debbie joined Raymond James in 2004 as the tax manager in Operations and then transferred to Private Client Solutions in 2013.
Prior to joining Raymond James, Debbie gained 10 years of experience working in public practice as an expatriate tax manager at a major international accounting firm, and articled at an accounting firm handling financial reporting and tax compliance for small business families. Debbie obtained her chartered accountancy designation (CA, CPA) in 1998. She also earned the U.S. Chartered Retirement Planning Counselor™ (CRPC™) designation in 2018 to expand her perspective on the unique planning needs of our cross-border clients.
In her free time, she enjoys relaxing and travelling with her husband, and takes a particular interest in nutrition and fitness methods to age backward.
Stephen Miziolek
Insurance Specialist, Raymond James Financial Planning Ltd. (Canada)
Stephen Miziolek is a seasoned financial professional with extensive experience in estate and insurance services. For over 40 years, Stephen has been helping individuals and businesses protect their assets and income through the critical stages of their financial lives - Accumulation, Distribution, and Conservation. His expertise is rooted in creating tax-efficient plans that are tailored to the unique needs of each client.
Stephen's knowledge and experience have been of great value to many clients. He works closely with investment advisors and other professionals to employ the most current products and concepts to build programs that ensure the tax-efficient transfer of wealth. As a CERTIFIED LIFE UNDERWRITERTM (CLU), Stephen offers expertise in estate creation and continuation, business succession planning, charitable giving, wealth preservation, tax minimization, critical illness, and long-term care.
Financial planning is a process, not an event, and Stephen takes care to help clients evaluate their position and apply practical and financially sound solutions to achieve their goals. Whether you are an individual or a business, Stephen provides flexible and convenient plans that allow you to enjoy your life without worrying about your finances.
Stephen is steadfast in his commitment to helping clients build, preserve and transition their wealth in the most tax-efficient manner, according to their priorities.
Contact Stephen Miziolek today to schedule a consultation and start your journey towards financial security.
BLA Private Wealth

20 Erb St. West

Suite 1001

Waterloo, ON N2L 1T2
Website legal disclaimers
Raymond James Ltd. is an indirect wholly-owned subsidiary of Raymond James Financial, Inc.
Securities-related products and services are offered through Raymond James Ltd., member Canadian Investor Protection Fund.
Insurance products and services are offered through Raymond James Financial Planning Ltd, which is not a member Canadian Investor Protection Fund.
Raymond James Trust Services are offered by Raymond James Trust (Canada) in the provinces of British Columbia, Alberta, Saskatchewan, and Ontario, and by Raymond James Trust (Québec) Ltd. in the province of Québec. Both entities are wholly owned subsidiaries of Raymond James Ltd. Trust Services are not covered by the Canadian Investor Protection Fund. Use of the Raymond James Ltd. website is governed by the Web Use Agreement | Client Concerns.
Raymond James (USA) Ltd. All rights reserved.
Raymond James (USA) Ltd. advisors may only conduct business with residents of the states and/or jurisdictions in which they are properly registered. Investors outside the United States are subject to securities and tax regulations within their applicable jurisdictions that are not addressed on this website.
Raymond James (USA) Ltd. is a member of FINRA/SIPC.





This website may provide links to other internet sites for convenience of users. Raymond James (USA) Ltd. is not responsible for the availability of content of these websites, nor does the firm endorse, warrant or guarantee the products, services, or information described or offered by these other internet sites. Users cannot assume that these websites will abide by the same Privacy Policy that Raymond James (USA) Ltd. adheres to.
Please click on the link below to stay connected via email.
*You can withdraw your consent at any time by unsubscribing to our emails.